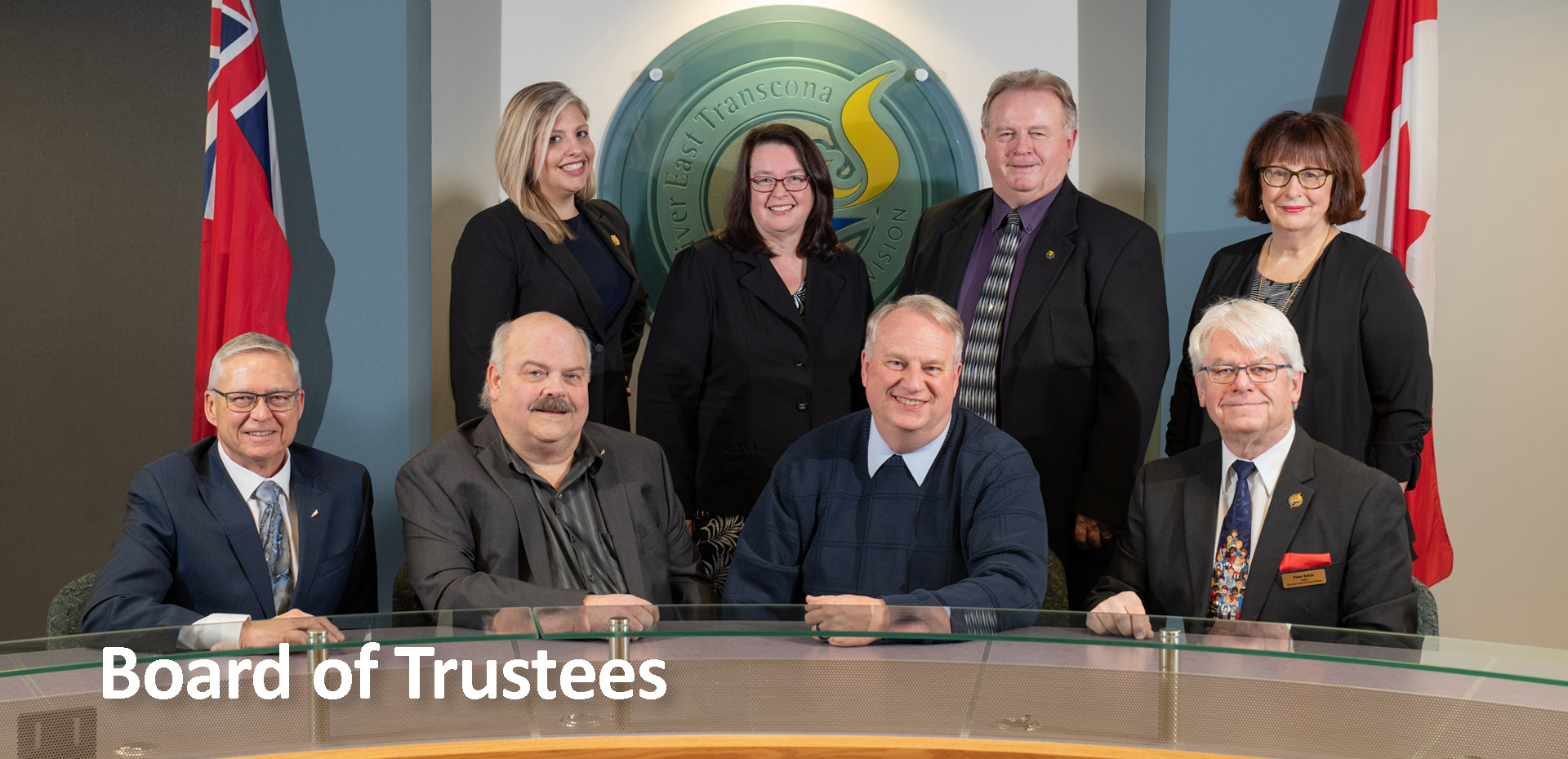 The RETSD board of trustees: (back row, left to right) Brianne Goertzen, Colleen Carswell (board vice-chair), Jerry Sodomlak (board chair), Susan Olynik; (front row, left to right) Keith Morrison, John Toews, Rod Giesbrecht, Peter Kotyk.
Our division is governed by a board of eight (one position currently vacant) trustees who are accountable to the public for the safety, quality and cost of education via human resource practices, policies and budgetary decisions. Trustees are elected every four years during municipal elections and in RETSD, meet the first and third Tuesday of each month at 6:30 p.m. In-person attendance at regular board meetings by community members is unavailable at this time. Meetings are live streamed on Microsoft Teams and accessible to the public. Public board meeting links are available prior to each meeting on the RETSD website. Read more about school boards and trusteeship.
On January 25, 2022, the board of trustees held a Virtual Community Consultation event with members of the RETSD community. The board shared the results of a ThoughtExchange (an online questionnaire), as well as information regarding budget deliberations. To view the full reports, click here: Virtual Community Consultation
Running for School Trustee
The next municipal and school boards election will take place on Wednesday, October 26, 2022, providing Winnipeg residents an opportunity to vote for a mayor, councillors, and school trustees. As well, East St. Paul residents will be able to vote for a school trustee for Ward 5 of our school division. Below are some resources for school trustee candidates:
Additional resources can be found on the MSBA website.
Trustee Information